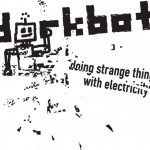 Things are shaping up nicely for the 29th June Dorkbot, with the three presentations all roughly falling into the topic of digital interactions with our cities, their culture and environment, could we mashup museum cultural information and place the results in a virtual Second Life city? Much food for thought and discussion!
Alistair MacDonald
Will show off some of his more unusual geographic mashups including a flight simulator written in PHP, various live transport information mashups, and the Newcastle Metro system emulated on a web server.
Reusing Museums Collections Data
As the UK's museums collections data is opened up as part of the Culture Grid project (www.collectionstrust.org.uk/culturegrid), this session will explore what we can actually do with it. What can be built to encourage more people to use museums? What is the potential for cultural mashups using this data?
John Coburn works as an E-Collections Officer for the North East Regional Museums Hub (http://www.twmuseums.org.uk/hub/). John researches and develops projects that aim to improve public engagement with regional museum collections online. John will be talking about what museums and the public stand to gain from the reuse of collections data, and discussing potential applications with the group.
Mike Hirst is the Managing Director of DAS-360° (http://www.das360.net/) , a North-East based micro-business delivering digital services to the cultural sector. Mike will be explaining the technical details in reusing Culture Grid collections data and inviting potential collaborative projects'.
Vector76
Vector76 build stuff, stuff based on the real world such as the  virtual NewcastleGateshead islands in Second Life or indeed stuff that doesn't exist such as the Business Quarter Tower home of Sunderland Software City amongst others. Vector76's Shaun Allen will be talking about the challenges he's faced creating these and the opportunities they offer for the future http://vector76.co.uk/ngsl/
Doors open 6.30 for a 7.00 kick off. Entry is free and  there will be a pay bar.